Feb 11th, 2011
CCL LOGISTICS Launches its website www.ccllogistics.com
Feb 11th, 2011
CCL LOGISTICS Launches its website www.ccllogistics.com
read more

Welcome to CCL LOGISTICS
CCL LOGISTICS was founded and incorporated in Uganda as a limited company on March 18th 2005, the company has assumed its present leading role in the transportation, engineering works, clearing and forwarding sector through its commitment to ever improving levels of customer service in which has resulted in reputation as a leader in the safe, professional and timely transportation and clearance of all types of manufactures goods, containerized goods, consumable goods, bulk liquids, petroleum, chemicals, food stuffs, raw materials and project cargo, by land (road), sea and air.

Our Commitment
We are committed to build a long-term business and continue to seek for opportunities for further development and expand our range of services.
Your partnership with CCL Logistics will always serve to enhance your business in the short term.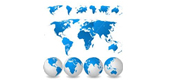 Our current bankers are DFCU Bank, Kampala. / Barclays Bank, Kampala, Stanbic Bank, Kampala.